America's infrastructure deficits can be measured and assessed by national surveys. According to the annual infrastructure report card issued by the American Society of Civil Engineers there is a $ 2 trillion, ten-year funding deficit.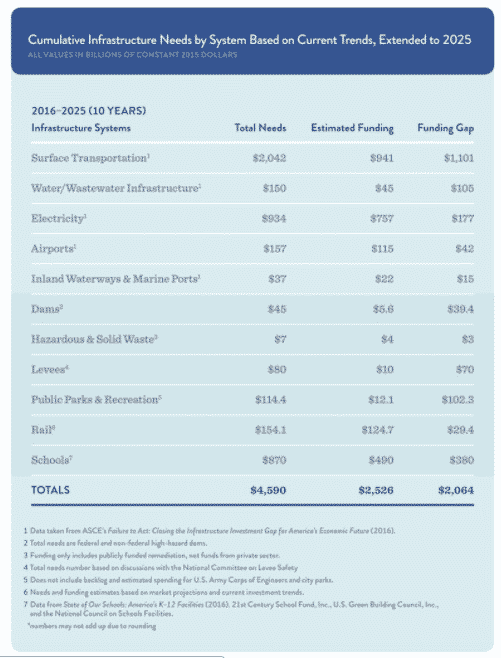 The statistics are alarming but abstract. The general dereliction makes itself felt in catastrophic failures, bridge collapses etc. It can be felt at a personal level in day to day hassle and discomfort. For big-hitting policy experts like Larry Summers or top business men like Lloyd Blankfein, it is chance encounters with the realities of everyday life in America, that are apt to set off a rant about inadequate infrastructure. Their complaints have a Bonfire of the Vanities quality about them. "Did I take the wrong off ramp? Is this really my country? Is this really my airport?"
If we are to avoid falling into cliché and first world consumer snobbery, how should we navigate from the general to the particular and back again? One way to give some heft to the argument is to look at bottlenecks, particular spots where the undeniable state of genera dilapidation and underinvestment creates systemic effects.
Given how inadequate American rail passenger services are, it is easy to underestimate the significance America's rail freight system. 40% of the ton-miles (freight tonnage multiplied by distance traveled) that freight travels in the US goes by rail. It remains the backbone of the logistics system of the largest economy in the world. Indeed, the dominance of freight is one of the reasons why American passenger services suck. Freight dominates the system. Dictates the track layout and sometimes has priority in traffic planning.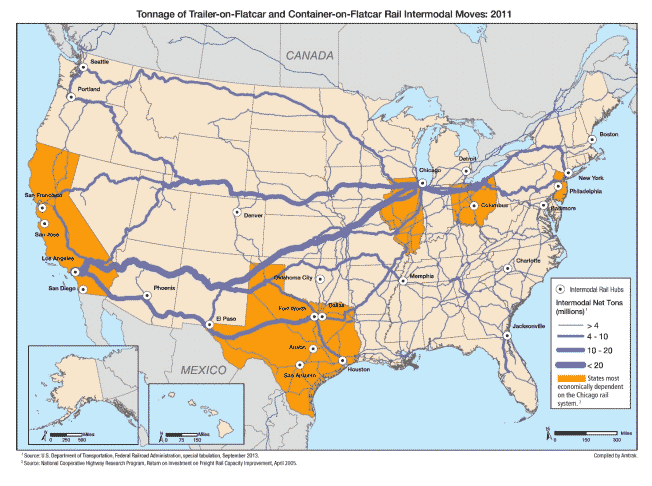 One place where the two come into immediate conflict is Chicago. Chicago is the hub. One third of all freight traffic in the US goes through Chicago. As an Amtrak report notes , 60% of all rail intermodal traffic (shipments in trailers and containers that move by a combination of rail and truck and/or ship)." This adds up to 600 million tons of rail freight, valued at over a trillion dollars, moving through Chicago each year.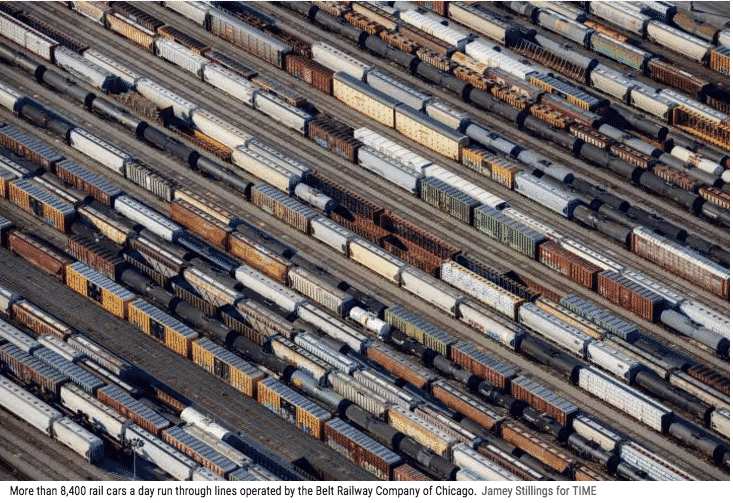 As Business Insider describes it: "There's no other mode of transportation where a third of something goes anywhere," Livingston said. "You can do everything right everywhere else, from sea to shining sea, on our network, and Chicago is the goal line. And you can't fumble on the goal line." Freight rail is divided into three classifications, with Class I being the largest and including national operators like CSX and Union Pacific. Chicago is the only place in the country where six of the seven Class I operators interconnect. That's why Livingston refers to the city as "the Super Bowl of freight rail." The overlap, while vital, leads to massive congestion and costly delays. An Amtrak study of the Chicago rail problem found that a train shipment spends an average of 30 hours traversing the Chicago region. To put that into context, freight often takes 48 hours to get from Los Angeles to Chicago."
Chicago's rail network the hub of the US transportation system is a poorly coordinated relic of 19th-century railway development. As an Amtrak report from October 2015 notes : "By the middle of the 20th century, 38 railroads accessed Chicago, sharing six passenger terminals and interchanging traffic with each other at more than a score of major yards. None of these railroads ran through Chicago. Everything that passed through the city by rail – from passengers to pigs – changed trains there. Each railroad controlled the operation of trains over its own tracks and yards into and out of, but not through, the city. The rail network that serves Chicago today was largely designed in the 19th century to meet the needs of individual railroads' operations. Although railroads have made large investments in recent decades to modernize and upgrade that network and associated rail facilities, some still-in-use Chicago rail facilities date to 19th and early 20th centuries. The benefits from improving Chicago rail infrastructure, and of enhanced operational coordination among its railroads, have long been recognized. The ambitious 1909 Burnham Plan for Chicago, developed by Daniel Burnham, the architect who designed Washington, D.C.'s Union Station, proposed the consolidation of passenger stations and the construction of additional "belt" lines around the city on which tracks would be shared by all freight railroads. However, Burnham's vision for restructuring Chicago's rail network and operations was largely unrealized because the railroads were unable to reach agreements on enhancing and sharing rail facilities."
As a result Chicago is unfit for 21st century purposes and the pressures on it are only mounting over time. As the Amtrak Blue Ribbon Panel reported: ". • Today's long freight trains will not fit into the relatively short track segments between most Chicago area grade crossings. When another train is stopped ahead, freight trains must often be held miles away to avoid blocking grade crossings while they wait, which significantly reduces network capacity. • Much of today's Chicago freight rail traffic does not move in individual freight cars on trains that terminate in the city. Instead, it travels through Chicago on unit trains carrying a single commodity (grain, coal and oil), and on run-through trains that operate directly between major yards or terminals of two different railroads. These through trains require a high level of operational coordination among multiple railroads in Chicago. • Changes in freight railroad traffic flows over the past quarter century have disproportionately increased Chicago's rail freight traffic. – Railroads have concentrated traffic, particularly growing intermodal traffic, on more efficient, higher volume routings via Chicago. – Increased trade with and between Canada and Mexico has added new north-south rail traffic to Chicago's historically dominant east-west traffic flows. When low emission coal from Wyoming's Powder River Basin began moving in unit trains to Eastern utilities, Chicago was the logical gateway. – Chicago is also the most direct routing for the unit oil trains that more recently have begun traveling from North Dakota's Baaken Shield to refineries and ports in the Northeast, triggering an over 21,600% increase in shipments of oil by rail (from just 3,000 carloads in 2006 to 650,000 carloads in 2014)."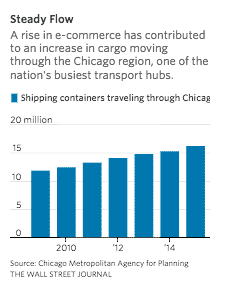 For anyone raised on the economic history literature of "economic decline" and the "climacteric" in Edwardian Britain, reading this material is eerily familiar. Indeed, twenty-first century Chicago's problems are literally Edwardian.
One switching station singled out by the 2015 Amtrak Blue Ribbon Panel and visited by a local news station was described as follows: "Metra's tower at the A2 interlock and you step back in time. The tower, near Grand Avenue and Western, was built in 1907. The switching system inside was state-of-the-art. At least it was when it was installed in 1932. … The inside of the A2 looks like a movie set. A "leverman" walks along a Jules Verne-style contraption, moving levers to activate the 31 switches in the yard. Over it all, an 80-year-old electric map shows the locations of trains approaching a spaghetti network of intersections. All told, seven of Metra's eleven lines pass through the A2 yard, travelling to all six counties on the Metra system. "There's no question about it. It's a very intricate dance that goes on here in rush hours," Oppenheim said. "On a typical weekday, there are 358 moves that go through here in a 24 hour period.""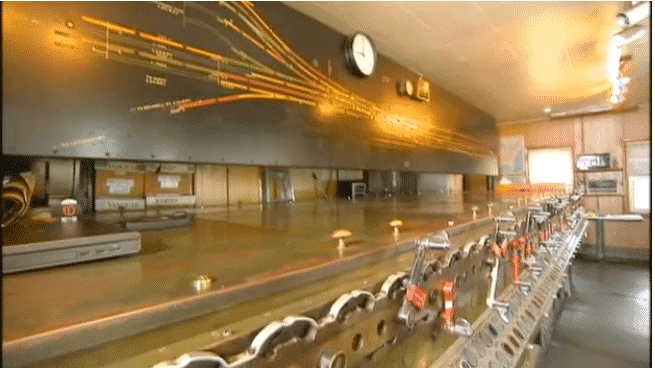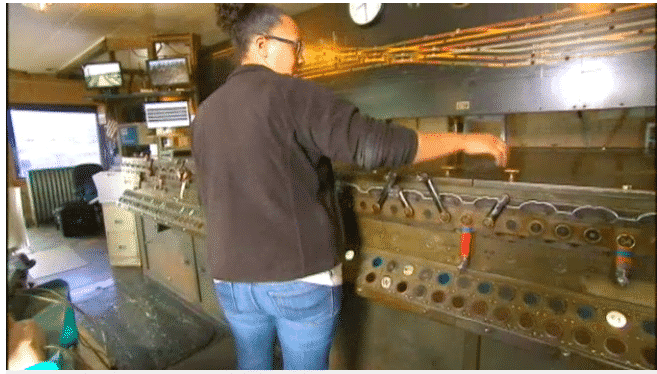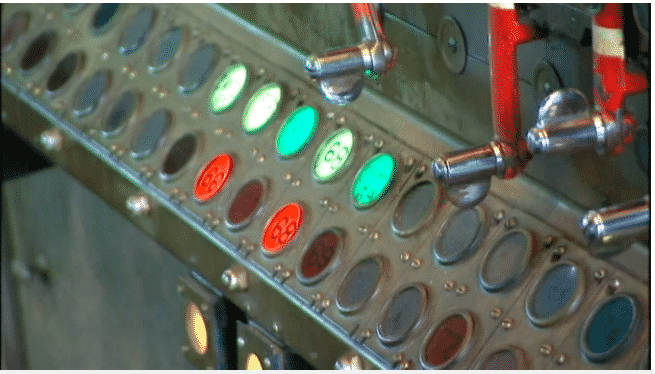 Truly, watch the movie. It is hard to believe that this is Chicago's rail system and not a kid's model train set.
If you were to visit the tower in winter time, you would be treated to another remarkable sight.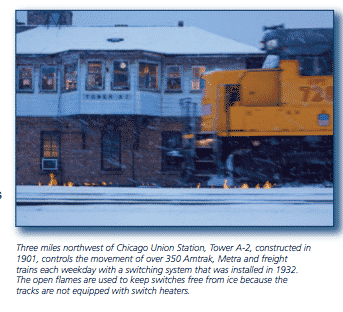 As the Amtrak report notes, open gas flames are used to heat the key switches in Chicago because no electrical switch heaters have been installed. These seem to be standard in European railway systems. The results are picturesque but mind-blowing.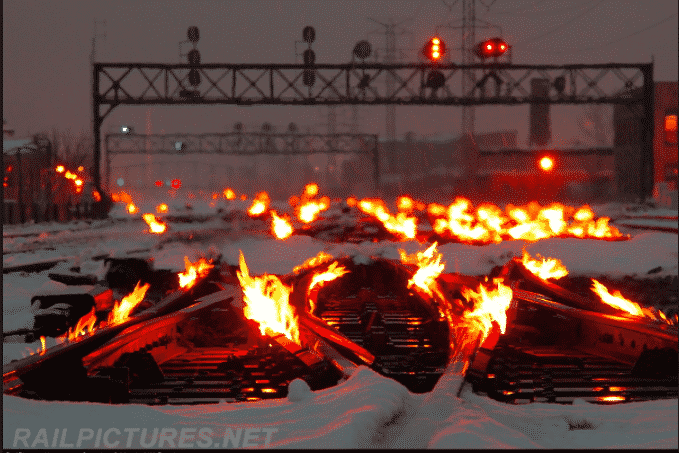 And if you are looking for the epicenter of that shambles look not further than the 75th street corridor. It may be the busiest intersection in the US railway network. Business Insider describes a typical afternoon at the speed bump of the America's railway system.
"A freight train more than 10,000 feet long, hauling hundreds of shipping containers, sits idle in residential Chicago. It's the middle of the afternoon, and the CSX train is just parked there. Waiting. At this stretch of railroad, known as the 75th Street Corridor, that scene plays out day after day. Freight trains spend hours waiting for commuter and Amtrak trains to clear a single intersection, blocking their path and preventing the delivery of goods. The corridor sits in an urban neighborhood southwest of downtown Chicago. It's widely considered the worst choke point for rail movement in the city, which is the busiest rail hub in the nation. With hundreds of billions of dollars in goods traveling through Chicago by rail every year, each minute those freight trains are stalled, companies and consumers alike are losing money or being forced to spend more for the goods those trains haul. Down the track from the stationary CSX train, a Metra commuter train rumbles through the worst part of the corridor: Forest Hill Junction, a six-track intersection shared by Amtrak, commuter, and freight rail. A few minutes later, another Metra train rolls through. Because these commuter trains run perpendicular to the track the freight train uses — and almost always have the right of way — the freight has to wait."
This is the notorious Forest Hill Junction responsible for more serious delays and hold ups than any other part of the US railway network. Forget those uncomfortable and vaguely degrading airport experiences. If there was one bit of America's infrastructure that you should choose to upgrade, this is it.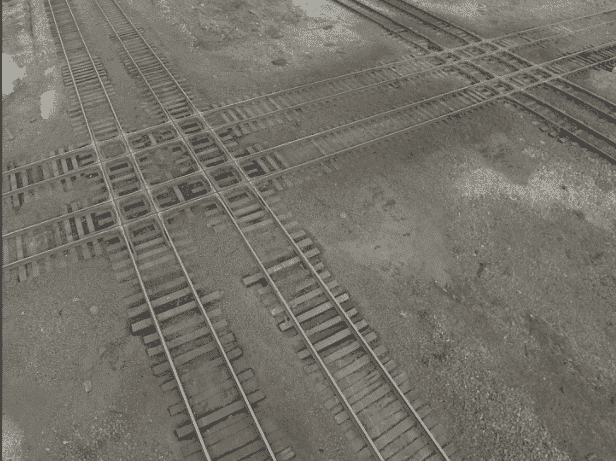 Six lines intersect at a single junction. No overpass. No waiting area. A recipe for endless day to day congestion as freight traffic backs up miles away for hour long waits and commuter traffic ends up snarled with Amazon deliveries. The impact on the entire network becomes obvious when you look at a map. And add road traffic into the mix in the wider 75th street corridor area.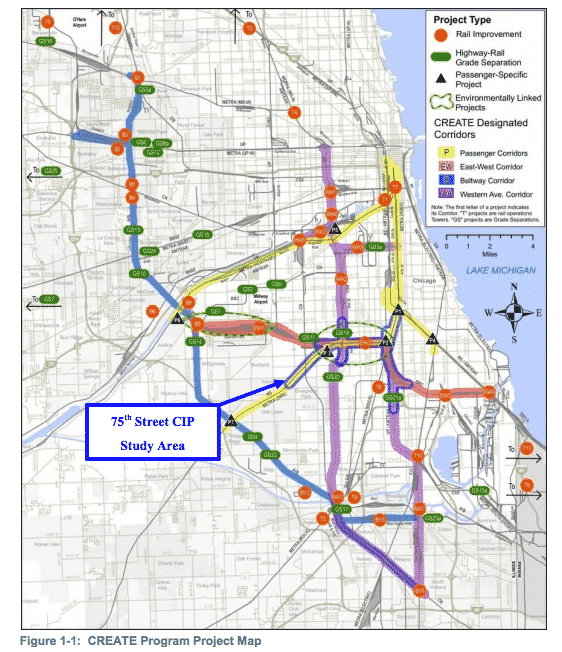 The knock on effects are spectacular. But in engineering terms the fix is simple. What the Chicago railway systems need are basic bits of transport infrastructure, over- and underpasses that would allow passenger and freight services to be disentangled.
The need is obvious and has been for some time. In 1997 in the wake of a particularly massive snowstorm, Chicago's transportation system ground to a complete halt. 6 years later, at the pace that infrastructure politics moves in the US, a coalition was established, Chicago Region Environmental and Transportation Efficiency Program (CREATE), to advocate for a "$4.4 billion public-private partnership–… to untie the train lines and allow the rail network to operate more efficiently. So far, 28 completed projects have increased capacity by adding rail lines, removing tracks from street level by creating overpasses and underpasses, and separating freight and commuter trains. Officials say the project–an alliance of federal, state and local governments along with the railroads–could generate $31.5 billion in economic benefits and allow 50,000 additional freight trains to travel through the city's rail network in the next few decades while saving thousands of hours in motorist and commuter delays each year. And because of Chicago's vital role in sending goods around the country, a more efficient rail system could have salutary effects around the U.S." http://time.com/4718001/making-chicago-trains-run-on-time/
One of CREATE's  showcase projects is the Englewood Junction on the south side of Chicago near I-94 and 63rd Street, "used to be the worst choke point in the region. So Create built a flyover — basically an overpass that carries one train over another in a different direction. The Englewood flyover separated 46 freight trains, 78 Metra trains, and 14 Amtrak trains that pass through daily and eliminated 7,500 annual hours of delays for commuters, according to Create."
Englewood cost a modest $ 142 m. The 75th Street corridor will be more expensive. It will cost $ 1 bn. This is hardly a huge amount of money. But the problem is to decide who will pay it.
In recent years it looked as though a coalition of local interests with national funding might break the deadlock. As the Chicago Tribune tells the story: "To get the federal share, the state, Chicago and Cook County last year teamed up to ask the Obama administration for a $160 million grant. But that request required a commitment from the railroads for their share. The railroads wouldn't budge, says U.S. Rep. Dan Lipinski, D-Chicago, a strong advocate for fixing the 75th Street bottleneck. "There had been discussions with the railroads, and they did not want to participate in any grant applications," Lipinski tells us. Lipinski and state and local officials kept pressing the railroads to pay their share, and in the waning days of Obama's presidency, the railroads agreed. But with one foot out of the White House, Obama bequeathed the grant request to the Trump administration." http://www.chicagotribune.com/news/opinion/editorials/ct-rail-freight-chicago-trump-edit-jm-20170516-story.html
Chicago Business tells the same story rather differently: "During negotiations that kicked off in January (2016), representatives from the Illinois Department of Transportation, the city and six railroads failed to agree on a financing package worth as much as $500 million that would pay for work related to what's called the 75th Street Corridor Improvement Project, according to a person familiar with the talks. The general idea, this person said, was the Illinois Department of Transportation would seek $190 million to $200 million from the federal government, with the railroads and the state picking up the rest. The state, of course, doesn't have its own transportation funding bill right now (because of the impasse in Illinois politics, AT), leaving the freight companies—Union Pacific Railroad, CSX, BNSF Railway, Norfolk Southern Railway, Canadian Pacific Railway and Canadian National Railway—potentially looking at a $300 million bill between them. It was a big ask, with little time to make decisions before the application to the federal government was due, and a final agreement wasn't in the offing. Norfolk, CSX and Union Pacific are said to have made another offer to transportation planners to salvage a deal, but the project was dead by then. Media representatives for the companies declined to comment or did not respond to messages. "You couldn't say the railroads weren't engaged," the person familiar with the talks said. After the negotiations ended, the Illinois Department of Transportation submitted a grant application seeking $110 million in federal funds for three grade-separation developments. The 75th Street corridor projects—bringing new track, flyovers and other changes to a tangle of rail lines near 75th Street between roughly Halsted Street and Western Avenue—have been on the drawing board for a long time. Officials decided to try to find a way to pay for some of the work this year because money became available under a federal grant program created when President Barack Obama signed a big transportation infrastructure bill into law in 2015. The breakdown of the talks for the South Side rail corridor raises questions about how such a big-ticket infrastructure project will get paid for, especially when both private freight railroads and Metra, the public commuter railroad, stand to benefit. That makes it tricky to decide how much the public sector and private companies should pony up. Meanwhile, when the talks were going on earlier this year, freight companies were seeing shipments fall amid economic softness, cutting their appetite for high-priced capital investments. Congressman Dan Lipinski, D-Chicago, said he was optimistic a deal for 75th Street would come together, describing the negotiations earlier this year as a "test run" that should prove "helpful for the next time" all parties try to figure out a funding package. Lipinski, who's made it a point to focus on transportation and rail issues, added that those at the negotiating table didn't have a lot of time to figure out how to pay for the expensive project; the application they needed to send federal transportation department closed on April 14 (2017). … Of course, it may be that the 75th Street project, given its price tag, isn't worth the benefits the freight railroads would stand to gain from it. Yet Ed Greenberg, a spokesman for the Association of American Railroads, a trade group in Washington, said the "freight rail industry remains firmly committed to the mission and goals of Create and staunchly supportive of the public-private partnership we have in place." Street. http://www.chicagobusiness.com/article/20160504/NEWS10/160509942/why-the-big-rail-work-on-75th-street-will-have-to-wait
The grant application for federal funding to unstick the political, economic and technical logjam in Illinois is still pending. But as the Chicago Tribune comments the signs from the new administration are not encouraging. "so far, President Donald Trump hasn't shown much enthusiasm for rail projects. His preliminary 2018 budget proposal calls for big spending cuts to mass transit — and projects to unclog freight rail traffic. It's important that the railroads' appetite for funding CREATE projects doesn't wane. Many CREATE projects call for grade separation work that creates overpasses to eliminate intersections between rail and car traffic. Lipinski says the railroads balk at funding those projects because they don't perceive a direct benefit to their operations. One project already completed, CREATE's $142 million Englewood Flyover project, separated north-south Metra trains from an east-west rail line used by freight trains and Amtrak. The railroads put up $3 million — just 2 percent of the price tag — while federal and state taxpayers shouldered the rest. CREATE, however, is supposed to be a public-private partnership, not solely a government endeavor. Lipinski says the railroads should shell out more money for CREATE projects." http://www.chicagotribune.com/news/opinion/editorials/ct-rail-freight-chicago-trump-edit-jm-20170516-story.html
But the problems of infrastructure in the US are not limited to the political economy of billion-dollar grant applications and the absurdities of the Trump administration. As WSJ reports, To the amazement of business activists and advocates of regional economic development, it turns out that there is homeowner resistance and NIMBYism on Chicago's South Side.
Following the success of CREATE's Englewood project, "Norfolk Southern Corp . is trying to build a $285 million expansion of an existing intermodal rail yard in the Englewood neighborhood to accommodate the increase in shipping driven by the rise of Amazon and other online sellers. The railroad has purchased more than 550 lots in Englewood from the city of Chicago and from neighborhood residents; last year, it filed eminent domain proceedings against several property owners who refused to sell. Those residents oppose the company's eminent domain rationale and have filed a motion to dismiss. Englewood is a predominantly black neighborhood and one of the city's poorest. The median home sale price here has fallen 84% since 2006, more than any other Chicago neighborhood, according to real-estate firm Midwest Real Estate Data. Norfolk Southern says it has resorted to eminent domain only as a "reluctant last resort," and expansion of the rail yard will benefit the local and national economy. Tamiko Beals has lived on the same block in Englewood since 1981. Her mother, who lives across the street, has lived in the neighborhood for more than 50 years. So when Norfolk Southern offered to buy Ms. Beals's home as part of the expansion here, she hesitated. "I've loved this house since I was a child," said Ms. Beals, 46 years old. "Englewood is supposedly one of the most horrible communities in the world, but I've always felt safe here. I'm going to wait and see what happens. I'm not in any mood to jump up and run." "If this had been an area with a different ZIP Code, this wouldn't have happened," Ms. Beals said. In part because of the rise in e-commerce nationally, the number of intermodal containers moved through Chicago terminals has risen every year between 2009 and 2015, according to the Chicago Metropolitan Agency for Planning. The Englewood yard is one of 20 intermodal terminals in the Chicago area. In early 2013, Chicago approved the sale of 105 vacant city-owned lots to Norfolk Southern for $1.1 million. Norfolk Southern made some concessions to the city to get the deal through, including setting aside $3 million for a "neighborhood investment agreement," which would improve the environment and create local jobs. Those projects haven't yet begun, according to the city. Norfolk Southern says it has gone above and beyond to accommodate Englewood residents. "We worked closely with residents who chose to sell us their properties at above market value, and we received many letters expressing gratitude for how Norfolk Southern dealt fairly with them," the company said in a statement. It declined to make an executive available for an interview. Some former Englewood residents were eager to get out from under burdensome mortgages and away from a neighborhood blighted by crime. Those who remain, though, say they don't want to leave. They contend eminent domain doesn't apply and Norfolk Southern dealt with their community in a disrespectful manner. "Our contention is that this was a land grab for the sole purpose of benefiting themselves," said Steven Rogers, who splits his time between Boston and Chicago as a senior lecturer at the Harvard Business School and the president of the neighborhood group Englewood Railway Coalition. His family has lived in Englewood for three generations. The coalition had nearly 40 homeowners when negotiations first began; now they are down to five. "Like any American citizen, we have a right to govern our own property. We understand eminent domain. If Norfolk Southern never came into our lives, we would have been fine."
Rogers and his campaign merit an entire separate post. I'll just leave this link for now.