Arguments from the "pro-business", "free enterprise" right against Trump's protectionist turn have produced some interesting insights. Data gleaned from UNCTAD by AEI blogger Mark J. Perry on the global activities of US multinationals makes for interesting reading.
DATA
UNCTAD reports foreign assets, sales and employment and the AEI covered both 2015 and 2016.
g.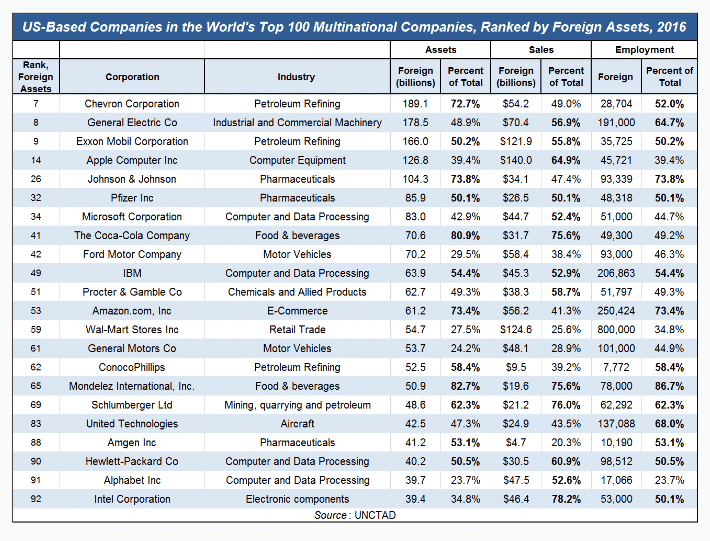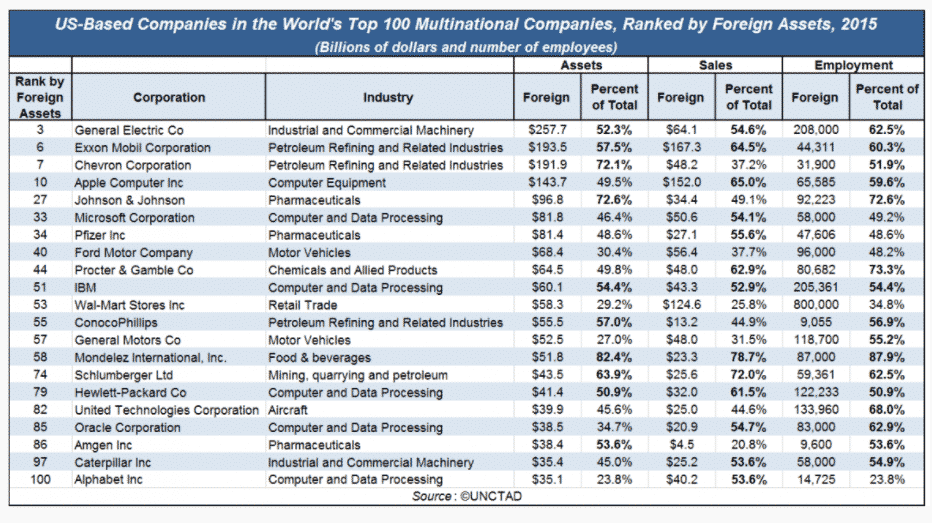 The big change between the two tables is the retraction of GE's overseas business. There are interesting differences also in the capital intensity of the firms.
GLOBAL PRODUCTION NOT EXPORTS
The AEI blogger's agenda is to defend globalization of US business as essential to its competitiveness. In making their case they cite these interesting lines by trade economist Daniel Griswold
"Most of what American companies sell abroad these days are not exports from the United States but goods supplied through their foreign-owned affiliates. This is how multinational companies compete for customers. In 2013, according to the most recent records from the U.S. Commerce Department, U.S. majority-owned affiliates abroad supplied $4.32 trillion in goods compared to $1.59 trillion in exports. That means that U.S. producers generate almost three times as much revenue from the sale of goods through their affiliates abroad as they do by exporting from the United States.
And what those U.S.-owned affiliates produce abroad is overwhelmingly sold abroad. Of the $4.32 trillion in goods that the affiliates supplied, $339 billion, or less than 8%, was sold as imports to the United States; more than 92% was sold in the host country or in third countries. In China, 96% of the goods supplied by U.S. majority-owned affiliates was sold in China or other countries outside the United States. In Mexico, 68% of the goods they supplied was sold in Mexico or third countries."
In a world of globalized production, trade data are a very poor guide to the health and competitiveness of "national business".
JOB CREATION
Likewise they are also a poor guide to the dynamic of job creation. Perry cites Dartmouth's Tuck School of Business Dean Matthew Slaughter from the WSJ as follows.
"Between 2004 and 2014, total employment at foreign affiliates of U.S. multinationals rose by 4.8 million, from nine million to 13.8 million. Yet the number of jobs at U.S. parent companies rose nearly as much, by 4.2 million, from 22.4 million to 26.6 million. Over the same period, the value-added and capital investment grew faster among U.S. parent companies than in their foreign affiliates. In fact, on these two measures the American parent companies outperformed the overall U.S. private sector. This suggests that having overseas affiliates gives companies a competitive advantage that allows them to invest more at home. More than ever, jobs in America are connected to the world. …  President Trump is right that America needs millions more good-paying jobs. But he does not seem to realize they can be created by U.S.-based multinationals that know how to invest capital, operate globally and create knowledge. In 2014, U.S. multinationals undertook 45.4% of all private-sector capital investment, were responsible for 49.5% of all U.S. goods exports, and conducted a remarkable 78.9% of total U.S. private-sector research and development. The 26.6 million domestic employees of U.S.-based multinational companies earned an average compensation that was 34.2% higher than the private-sector average. These parent companies also create millions of good jobs for their suppliers. Contrary to conventional wisdom, fully 89.2% of all inputs of goods and services purchased by U.S. parents—$8.8 trillion—were from other U.S. companies, not imports."