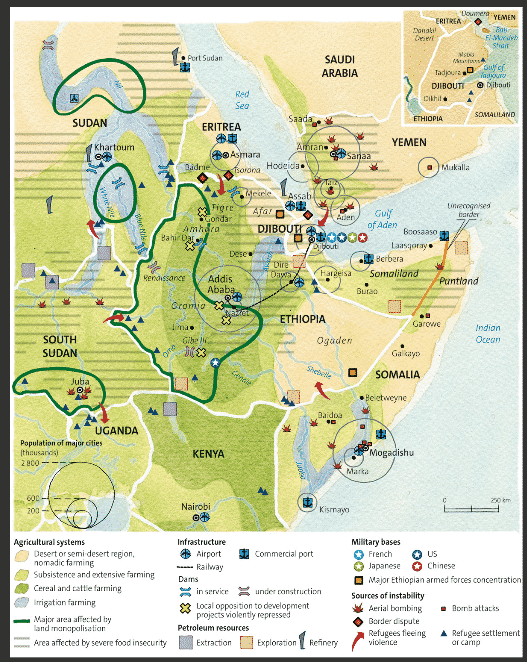 Under the title "Horn of Africa: Pivot of the World" LMD published a great piece by Gérard Prunier last year on the truly mind-blowing force field in that part of the world. HIGHLY recommended. The Economist more recently published a shorter but fascinating piece about the independent geopolitical ambition of the UAE. Very worth reading! This is a meld of an earlier facebook post inspired by Prunier with new stuff from the Economist piece and elsewhere.
Ethiopia, is a population giant undergoing an experiment in "building capitalism from above", which amongst other things has made it into the #4 exporter of cut flowers and a major arena in the global"land rush". In 2015 people were worrying about potential implications for human rights. In the fall of 2016 the regime declared a state of emergency as it seeks to get grip on inter-ethnic protests triggered by … uneven and combined development around Addis.
To justify its crackdown, the Ethiopian regime accuses Egypt of fomenting terrorism over water rights on Nile triggered by Ethiopian dam construction.
Simultaneously, Addis is locked in power play with Eritrea over Djibouti, ocean access and Horn of Africa.
Beijing is pumping billions into a China-funded and China-operated regional railway infrastructure, linking Addis to Djibouti where China has constructed its first overseas military base.
Meanwhile, global logistics player Dubai Port Authority is playing Djibouti against the neighboring breakaway region of Somaliland. And this is no more than a first approximation of the complexity of this forcefield, with the nightmarish Saudi intervention in Yemen just across the Red Sea to the Northeast.
Plus the region is overshadowed by the worst drought in 50 years, which puts 18 million inhabitants of Ethiopia at risk of famine in near future.
The Economist fills in the backstory to the expansion of Dubai Port Authority. It is one of the vehicles for the remarkable ambition of the United Arab Emirates. To capture this we need to widen the map from the immediate surroundings of the Horn.
As the Economist puts it: "From Dubai's Jebel Ali, the Middle East's largest port, it is extending its reach along the southern rim of Arabia, up the Horn of Africa to Eritrea (from where the UAE'S corvettes and a squadron of Mirage bombers wage war in Yemen), and on to Limassol and Benghazi in the Mediterranean. Fears that Iran or Sunni jihadists might get there first—particularly as the region's Arab heavyweights, Saudi Arabia and Egypt, seem to flounder—propel the advance. … If we waited to prevent these threats at our borders, we might be overrun," explains Ebtesam al-Ketbi, who heads a think-tank in Abu Dhabi. The UAE also worries that rivals might tempt trade away from Jebel Ali, awkwardly situated deep inside the Gulf. Rapid port expansion at Chabahar in Iran, Duqm in Oman and King Abdullah Economic City in Saudi Arabia all pose a challenge."
Apparently the prime mover in the UAE is Abu Dhabi's 56-year-old crown prince, Muhammad bin Zayed. "He is the deputy commander of the UAE's armed forces, and the younger brother of the emir of Abu Dhabi, who is also the president of the UAE. … Flush with petrodollars, he has turned the tiny country, whose seven component emirates have a combined population of almost 10m (only about 1m of whom are citizens), into the world's third-largest importer of arms. He has recruited hundreds of mercenaries, and has even talked of colonising Mars. … ".
SERIOUSLY … UAE the world's third largest arms importer. Not by much. But yes it is. UAE ahead of China!
And the Mars project is on a longer timeline but it is for real too!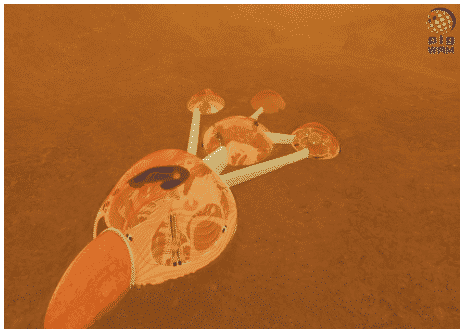 http://www.emirates247.com/news/emirates/vp-mohamed-bin-zayed-unveil-mars-2117-project-2017-02-15-1.648145
Meanwhile, back on earth, "if you join the dots of the ports UAE controls … some even see the old Sultanate of Oman and Zanzibar, from which the emirates sprang, arising afresh." What this means in real time is that UAE expeditionary forces are  in the business of putting down pro-democracy movements in Bahrain in 2011 and are one of the most active forces in the bloody war in Yemen.
In July 2015 it was UAE special forces that captured the Yemen port of Aden. "With the help of American SEALs, Emirati soldiers have since then taken the ports of Mukalla and Shihr, 500km (300 miles) east, and two Yemeni islands in the Bab al-Mandab strait, past which 4m barrels of oil pass every day. The crown prince has seen off Qatari interest in Socotra, a strategic Yemeni island, by sending aid (after a hurricane) and then construction companies, which a Western diplomat fancies may build an Emirati version of Diego Garcia, the Indian Ocean atoll where America has a large military base. While Saudi Arabia struggles to make gains in Yemen, Emirati-led troops earlier this year marched into Mokha port and are setting their sights on Hodeidah, Yemen's largest port and the last major one outside Emirati control."
On the other side of the Red Sea straits UAE is the main backer of break away Puntland and Somaliland that are seeking independence from the rump of Somalia. UAE ambition and money is transforming Somaliland as a possible gateway for landlocked Ethiopia. As the Economist describes the port city of Berbera, the former British colonial hub: "After the British came the Russians and in the 1980s NASA, America's space agency, which wanted its runway, one of Africa's longest, as an emergency stop for its space shuttle. Now the United Arab Emirates (UAE) is Berbera's latest arriviste. On March 1st DP World, a port operator based in Dubai, began working from Berbera's beachside hotel. Officials put little Emirati flags on their desks, and refined plans to turn a harbour serving the breakaway republic of Somaliland into a gateway to the 100m people of one of Africa's fastest-growing economies, Ethiopia. Three weeks later the UAE unveiled another deal for a 25-year lease of air and naval bases alongside. The agreement, rejoiced a Somaliland minister in the hotel café, amounted to the first economic recognition of his tiny republic. It would fill the government's coffers, and bolster its fledgling army. Businessmen sat at his table discussing solar power stations, rocketing land prices and plans for a Kempinski hotel."
UAE moves cannily. Before making a major investment in Berbera – $ 442 m is in the agreement – it insisted that the deal be approved by both Somaliland and the President of the transitional authority currently governing Somalia. According to well informed sources: "In order to entice the TFG president into affixing his signature to the contract Somaliland's president Ahmed Mahmoud Silanyo is said to have promised TFG's Sheikh Sharif financial and voters for his presidential re-election bid that will occur this coming August when the mandate of the internationally fronted TFG expires.
Will the prospect of really big money and integration into networks of global trade and power bring about the consolidation that so far has eluded Somalia? What new reality will be shaped by this forcefield?
In Somaliland, a relatively successful experiment in regional democracy, the moves towards an embrace of UAE are causing intense tension. The port deal was one thing. The move to allow UAE to open a military base in Somaliland in the former Soviet airfield, thus dragging Somaliland deeper into the wars ongoing both in Somalia and Yemen, caused uproar in Somaliland's parliament and the expulsion of the opposition including the parliamentary speaker. Good local TV coverage here.
How does this play out?
The imagery of lost African modernities is irresistible.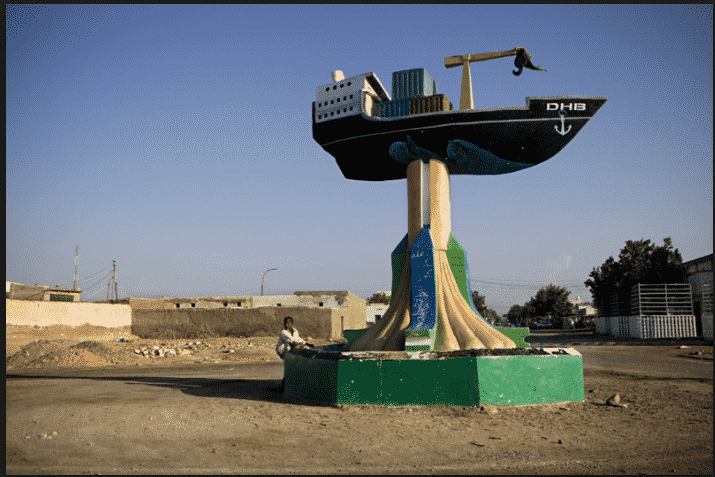 But that kind of image is apparently taken on shore. The main facility of Berbera port is actually only visible from offshore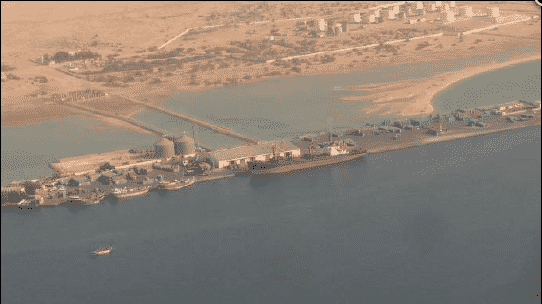 As logistics sources make clear: "Maps from Oceans Beyond Piracy (OBP), which is an independent NGO working together with Somali authorities to support investors and donors for the development of Berbera Port, show that the port has recently emerged as an important and strategic logistics hub widely used by humanitarian agencies and industry alike." The UAE is not buying into a wreck!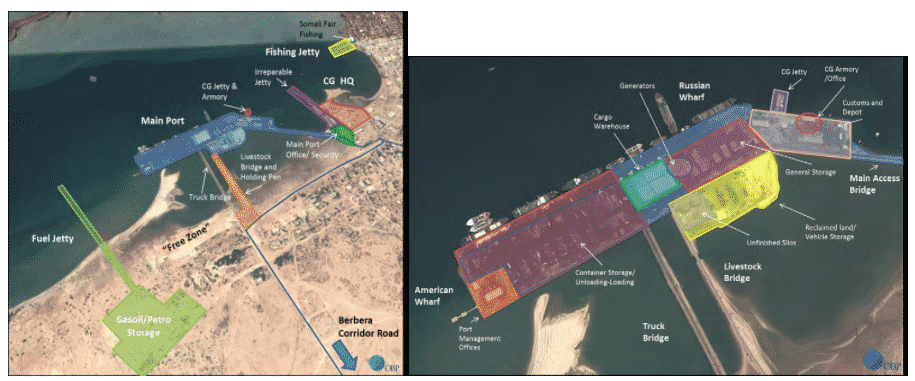 With China makings its play in Ethiopia and Djibouti, it would seem that UAE is America's favored proxy. The Obama administration supplied 63 % of its hardware. General James Mattis America's new Defense Secretary is a great fan. He dubbed the UAE "little Sparta". And according to well-informed US sources he clearly intends to use Saudi but above all UAE resources in the escalated war in Yemen and Somalia. UAE was Mattis's first stop on his first trip to the region. And it was a joint UAE/Seal team that carried out the disastrous botched operation in February. But the larger goal seems to be to put an end to the distracting conflict in Yemen to focus on suppression of AQ-affiliates and a pivot against Iran.
Sources:
http://www.telegraph.co.uk/…/ethiopia-struggles-with-worst…/
https://ig.ft.com/sites/land-rush-investment/ethiopia/
http://www.nytimes.com/…/ethiopia-an-african-lion-aspires-t…
http://www.dw.com/…/merkel-to-visit-ethiopia-am…/a-36005662…
http://www.dw.com/…/merkel-to-embark-on-three-na…/a-35987975
http://www.wsj.com/…/dubais-dp-world-agrees-to-manage-port-…
https://www.theguardian.com/…/next-stop-the-red-sea-ethiopi…
https://www.ft.com/con…/59ad20d6-f74b-11e5-803c-d27c7117d132