In 2016, Easter overtook both Valentine's Day and Halloween as peak chocolate and candy season in the US. 90 million Easter bunnies will be consumed in a gigantic national binge with heated arguments raging about whether you start eating a bunny from the ears or the toes.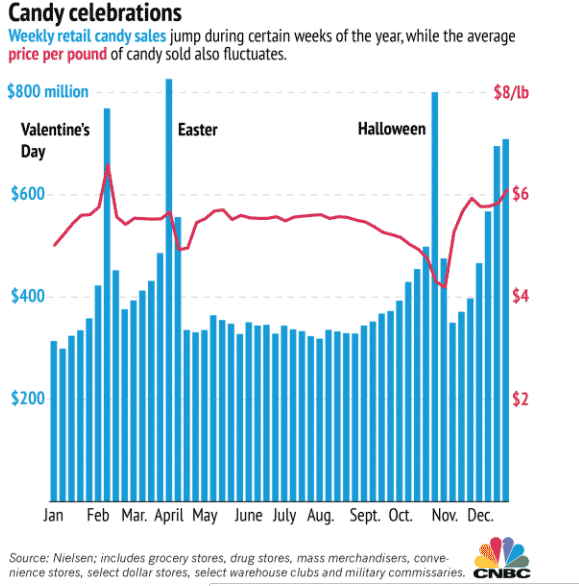 Source: http://www.cnbc.com/2016/03/24/easter-wins-the-candy-battle.html
A staggering 87 of families prepare Easter baskets for their children in the US. But there will be precious little to celebrate this year for the peasant famers in Cote D'Ivoire and Ghana who produce the bulk of the world's cocoa. Since my first chocolate post in February the global cocoa market has deteriorated sharply and is now recognized as having reached a crisis point.
Last year in a politically motivated move Cote d'Ivoire, which is the dominant producer, raised the price guaranteed to farmers. The Conseil du Cafe-Cacao, or CCC, set a guaranteed farmgate price of 1,100 CFA francs ($1.77) per kilogram. Most of two annual crops, the bigger of the two, were contracted in October 2016. This was  just before global cocoa prices plunged by 30 %. A steady increase in production has produced a glut which is now driving down prices, a collapse compounded by the unwinding of speculative positions.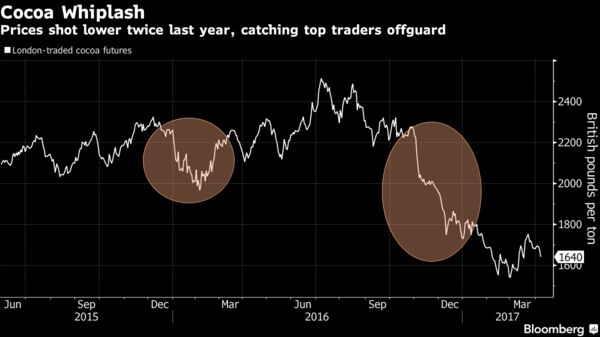 Even leading hedge funds are losing money. Amongst the casualties is  CC+ the most famous cocoa hedge fund, run by Armajaro Asset Management LLP's famed trader Anthony Ward. It lost money in 2016 for the first time since its inception a decade ago ..". Ward earned the name "Chocfinger" with huge cocoa bets in 2002 and in 2010 when he made an attempt to corner the world market in cocoa. As Bloomberg reported: "Some of the biggest traders in the cocoa market struggled to navigate the wild swings last year. Olam International Ltd., the third-largest cocoa processor, said in February that trading conditions turned against them, especially in the fourth quarter."
The result by early 2017 was a tense stand off between the authorities in Ivory Coast, merchants who had contracted to buy a large part of the harvest at prices which were now totally uncompetitive and the peasant producers.
As Bloomberg reported: "Beans have been piling up at ports and warehouses after a plunge of more than a third in future prices since July prompted some exporters to suspend purchases. Farmers' associations representing 98,000 cocoa producers are threatening to strike as the backlogs and price slump means some producers are not receiving the certified amount. …  local cocoa shippers in the country said more than 80 percent of the contracts they bought cannot be fulfilled after wrongly speculating that prices would rise, according to a person familiar with the matter. Local exporters have told the CCC that they can't honor commercial agreements for about 350,000 metric tons of beans, said the person, who asked not to be identified because the information is confidential. After prices plunged, exporters can only ship about 50,000 tons, said the person." There was talk of re-auctioning 180,000 tons of cocoa to find new, lower prices, which will mean a heavy loss of the Ivorian cocoa authorities.
At the sharp end, as NPR reported in a brilliant segment, farmers find themselves holding unpaid IOUs. They grow cocoa but they live off little more than cassava.
The scene at the main cocoa port of San Pedro is vividly described by the NPR reporter Alex Duval Smith: "But right now, the port's cranes are standing idle and the ships are nowhere to be seen. A musty smell hangs in the air around dozens of trucks still carrying fermented cocoa parked outside the Cargill processing plant near the harbor. Driver Daouda Traoré, 46, has been waiting to unload for three weeks. He is worried that rain will damage his load. "Cargill is the only plant buying beans at the moment so we are all backed up here," he says. "The other factories in San Pedro are closed and not taking any beans." He says factories are unwilling to pay the high price set by the government because it doesn't offer them a big enough profit margin. "They are waiting to reopen when the international price goes up," says Traoré, who claims he has never seen trucks backed up in San Pedro in such large numbers since he became a driver's apprentice in 1988. But cocoa is being sold in this city, on the sly. … In Ivory Coast, it is illegal to undercut the price set by the government. And yet some farmers "are selling cocoa for as little as 600 francs (96 cents) per kilo," says Blaise Koffi, 45, a union representative and a farmer. "They just have to, otherwise they cannot feed their families. But it is risky." A farmer risks losing his licence if he is caught selling cocoa for less than the government price, he says. Koffi says that in recent years, the Ivorian government has created a stabilization fund as a buffer to protect farmers against market fluctuations. But farmers say they have yet to see that money."It is there for times like these when we need help to make up for a low international price," says Koffi. "We want the government to trigger payments from it now." On 15 February, several hundred cocoa farmers demonstrated in the commercial capital, Abidjan. They tried to march on the "Caisse Stab," a building that houses the offices for those stabilization funds. But the protesters were scattered by riot police using tear gas. After the incident, the government regulator – the Coffee and Cocoa Council (CCC) – agreed to discussions with farmers. The CCC said it was confident it could put pressure on plants in San Pedro to reopen and resume buying cocoa."
At the national level, 30 % of Ivory Coast's public debt is in dollars and Moody's the credit ratings agency is already worrying about Ghana and Ivory Coast's ability to service those with diminished export revenue. The report notes that the impact of the cocoa price fall on the current account balance will be more significant for Côte d'Ivoire than Ghana because cocoa exports accounted for around 43 per cent of its total merchandise exports in 2015, compared to 24 per cent in Ghana.
Through February and March one local report has it: "There was a "lack of response from Ivory Coast," said Youssouf Carius, an economist based in the commercial capital, Abidjan. "When the market was expecting some answers, the CCC said nothing. Everybody ignored the crisis that was looming." As London futures tumbled toward the end of last year, many of the hundreds of exporters that had bet on higher prices were forced to default on their contracts. With fewer buyers, beans started to pile up in the country, helping push prices even lower. The problem left the state facing losses of more than $300 million … "
But with the second harvest of the year approaching Ivory Coast had to act. On 30 March 2017, instead of providing further support for farmers Ivory Coast cut the price paid to cocoa farmers by 36 percent to 700 CFA francs ($1.14) a kilogram for the second harvest down from 1,100 CFA francs in the autumn of 2016.
As Bloomberg reported: "The decision comes at a bad time for the government of President Alassane Ouattara. An army mutiny at the beginning of the year and a subsequent strike by public workers has weakened confidence in the economy and the price cut will affect an estimated 6 million people who earn a living from cocoa. … The government is being pragmatic," said Laurent Assouanga, a history professor at Ivory Coast's University Felix Houphouet-Boigny in Abidjan who has studied the industry. He also owns 10 hectares (25 acres) of cocoa. "When cocoa is piling up at ports, it's bringing no revenue, neither to farmers nor to the state. The government could no longer afford the luxury of maintaining a high price."
Production is likely to be cut. As Bloomberg reported: "Beans may also be smuggled into neighboring Ghana, which has said it will keep prices stable, the Rotterdam-based trader said. … "We might also see cocoa being withheld toward the end of the season if it looks likely that we could see a rise again in farmgate prices for the 2017-18 season," Cocoanect said. … The government also said on Thursday that it would scrap a 5 percent registration tax. The export tax for cocoa will also be cut to 16.5 percent from 22 percent, according to two officials with knowledge of the matter, who asked not to be identified because the decision hasn't been announced. If middleman and exporters don't pay farmers the price set by the CCC, the regulator will consider a cocoa-purchasing system similar to Ghana, where the government directly buys the beans, Massandje Toure-Litse, managing director of CCC, said on Thursday."
This would be a major step away from the liberalized system which Cote D'Ivoire introduced after a major scandal in 2010 concerning massive corruption in the cocoa and coffee supply chain. In 2013 14 cocoa barons were sentenced to prison for corruption running in excess of 500 m Euros. Not surprisingly it was a change heartily endorsed by the IMF. Massandje Toure-Litse who heads the CCC is formerly of Citigroup and World Bank and is widely seen as one of leading "reformers" of her generation. Feeding off rising cocoa prices and production the CCC was embarked on a wide-ranging development agenda, trying both to introduce higher standards with regard to labour and traceability of product and to rebalance marketing and processing arrangements. Whether this will survive the price crash is an open question.
CCC President Lambert Kouassi Konan is a man under fire. As a report from Ghana quoted him: "Producers may be dissatisfied with the price," the CCC's Konan said. "But they shouldn't protest, as it may be seen as disruption to the public order." Farmers at the meeting suggested Ivory Coast needs to produce forecasts for the harvest and be more transparent about plans to stabilize the market. The CCC didn't answer questions about how much money is held in funds designed to mitigate market risks and support prices for farmers. It also didn't say how much of the crop has already been sold. "The situation is difficult," Konan said. "But it's not the president that sets the price, it's the market."
Will relief come from an unexpected direction? This spring Germany has been rolling out its "Marshall Plan for Africa". In March its minister for foreign development was in Cote d'Ivoire hailing the need for investment and the development of a fair trade network centered on cocoa and coffee. "Through their joint initiative PRO-PLANTEURS the Government of Côte d'Ivoire and the German Initiative on Sustainable Cocoa (a forum supported by the German government, the German confectionery industry, food retail sector and civil society) seek to improve the working conditions on the plantations. The aim is to put an end to child labour and achieve higher incomes. 20,000 family farms and their organisations benefit from trainings on raising the quality in cocoa production."
At the African Development Bank in the commercial capital of Cote d'Ivoire Abidjan the mood was skeptical. The bank disburses $11 billion (10.5 billion euros) in credit every year with its board meeting weekly to consider 300 applications per annum. "At this particular meeting they have a guest. He is Gerd Müller, Germany 's development minister, who has been expounding on his African "Marshall Plan." This is a 30-page discussion paper which envisages "a new level" in development cooperation with Africa in the areas of economic development, trade, education and energy. Müller is seeking partnership with Africa, that is his reason for his presence in Ivory Coast, he explains. "I see you as the voice of Africa," Müller tells the bankers."You are the experts." The experts thank Müller politely for his display of initiative and his engagement with Africa. Then come words of criticism. "The strategy and the vision covers a lot of ground. I think the focus needs to be narrowed," said one board member. The plan concentrates on creating jobs for young people and offering them a better future. "Is 'Marshall Plan' really the right name for this?" the board member asks. "There aren't enough figures," another banker observes. "Exactly how much could Germany contribute?"  Unlike the original Marshall Plan, which was enacted in Europe shortly after the end of World War II, Müller's plan does not foresee handing out billions of dollars in loans. Instead, he wants to overhaul development aid, work closer with development partners and hold Africa's elites more accountable for their actions. Müller wants to stop the illegal flight of capital out of Africa and close down the tax havens being used by multinational corporations. Boosting Africa's private sector is also a key component of the German minister's scheme. Unfair trade barriers would be dismantled and African products given better access to European markets. "I must take you up on that point, Minister," said a banker from Nigeria. "Everybody at this table knows that the current agriculture policy is unfair to Africa. Statistically speaking, a cow in Europe receives more in subsidies than a farmer in Africa." Müller nods but the question as to how exactly he intends to bring about a fairer system remains unanswered. Müller's plan is currently just a discussion paper drawn up by the development ministry. He has no influence over trade policy, even though he may wish that he did. Many of his ideas have been bandied about in development policy circles for years, prompting Müller's critics to describe the name "Marshall Plan" as misleading. Others believe that it is a brilliant move, because it guarantees Africa and Müller's ministry a lot of attention in Germany."
The German pivot to Africa is so abrupt and so transparently connected to the refugee crisis that it is hard, indeed, to avoid such cynical conclusions. Talk of Marshall Plans is jarringly out of step with the development of the global cocoa industry, defined by mass consumer demand, global multinationals, commodity markets and the struggles of small peasant producers in fragile post-colonial states.