Why are 1990s NAFTA and EU Expansion not more commonly compared? They both bridge developed high-cost markets with emerging market economies. They were both pushed forward in the most ebullient phase of post-Cold War convergence optimism. They were the stuffing in the "neoliberal" sausage skin. They were a vital strategic move particularly for the auto industry, which despite its waning influence is a key player in the business of constructing transnational value chains. The result, twenty years on, is to create "large economic spaces" (Grossräume) with sustained and huge discrepancies in wage levels.
Recent news reports and statistical releases show the ratios in the EU to be even larger than in NAFTA: 10:1 for Denmark:Bulgaria v. 4:1 for US:Mexico.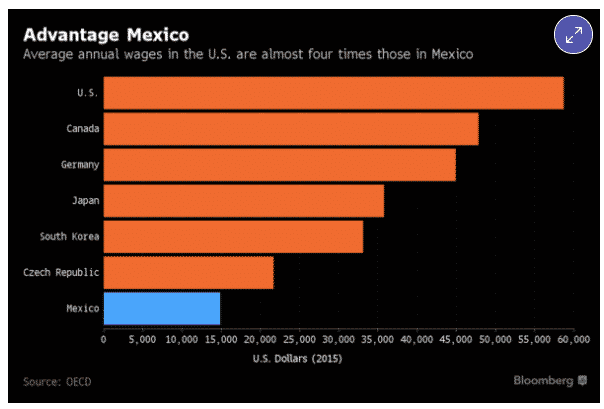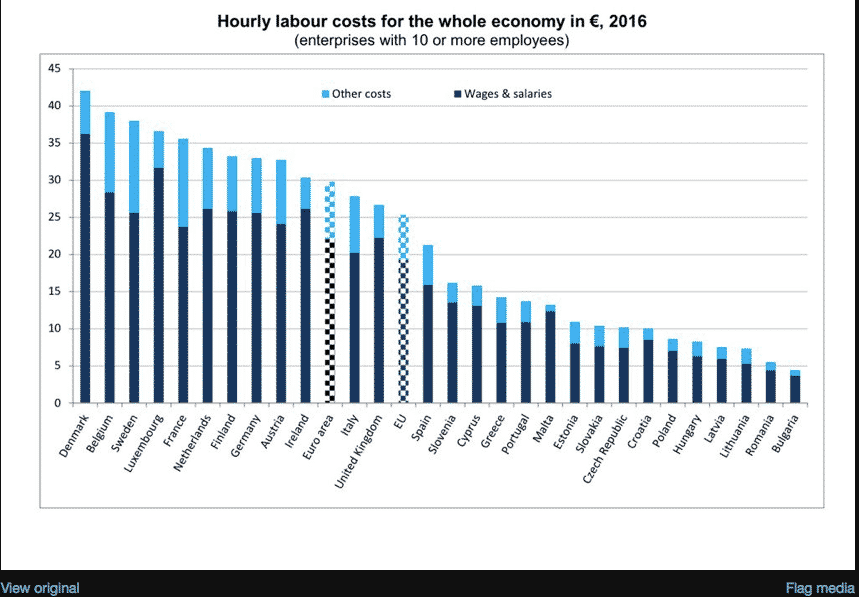 Obviously, Denmark is more like Connecticut than the US. And Bulgaria should be compared to one of the middle-ranking states in Mexico. Perhaps a viable comparison might be between the Czech Republic and Chihuahua state, both with substantial manufacturing capacity. I'm no expert here. Suggestions very welcome.
What is really striking is how immediately and explicitly precisely these kind of connections actually operate in the corporate logic of transnational investors. Here, according to a Bloomberg report, is how one cross-border NAFTA manufacturer sees it:
"Trump's plans to renegotiate Nafta", but "talk of punitive tariffs can't erase the need to manufacture in lower-cost countries, said Alan Russell, CEO of El Paso, Texas-based Tecma Group., which also helps open and operate factories in Mexico. European companies tap the Czech Republic for low wages and Asia has Vietnam, and the U.S. needs Mexico to remain competitive with labor-intensive products, he said. "This isn't about taking jobs from the U.S. — It's about saving companies." Russell helped Firstronic LLC open a factory in Juarez in 2014 to make circuit boards for customers including Audi and Tesla Inc. Workers, sporting maroon lab coats and wearing rubber straps on their shoes to ward off static electricity, make about $10 a day running computer-driven machines that insert capacitors and resistors onto green boards and solder them into place. The Juarez expansion — and joint ventures in the Czech Republic and China — was a factor in Grand Rapids, Michigan-based Firstronic winning larger contracts from producers of auto parts and medical supplies, said CEO John Sammut. His sales are surging at a 30 percent annual clip."
Visit Firstronic's website  to see how that Grand Rapids Michigan parts supplier sees the world.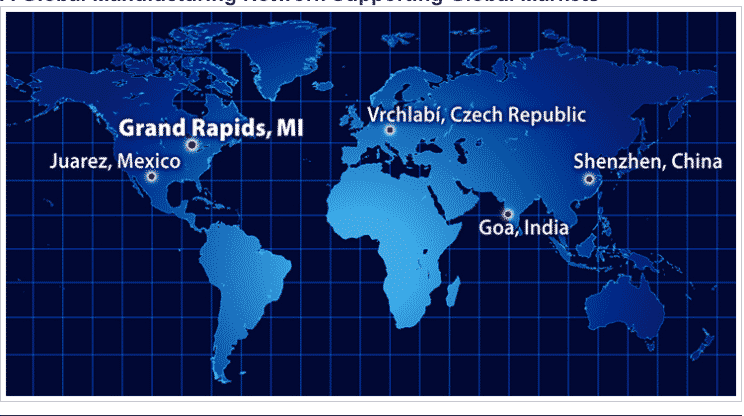 Firstronic's production facilities include:
"Maxtronic
Located in Shenzhen, PRC
Facility size: 7700 sq. meters/83,000 sq. ft.
PCBA and Box Build capability
9 SMT Lines
Registered to ISO 9001:2008, ISO/TS16949 and ISO 13485
Firstronic Europe / APAG
Located in Pardubice, Czech Republic
Facility size: 4500 sq. meters/50,000 sq. ft.
PCBA and Box Build assembly
Strong engineering support for product development, product validation and test engineering
4 SMT Lines
Registered to ISO 9001:2008, ISO/TS16949 and ISO 13485
Titan Timeproducts Ltd / TTPL
Located in Goa, India
Facility size: 4,500 sq. meters/48,000 sq. ft.
PCBA through box build capability
2 SMT Lines
Robust engineering support
Registered to ISO 9001:2008 and ISO/TS16949
Launched in 2014: Firstronic de Juarez (Division of Firstronic)
Firstronic greenfield facility in Juarez, Mexico in 2014.
Facility size: 6700 sq. meters/70,000 sq. ft.
PCBA and Box Build assembly
3 SMT Lines (capacity for 7 lines)
Registered to ISO 9001:2008 and ISO/TS16949"
Can anyone recommend particularly good work on this EU/NAFTA juxtaposition?
One team of authors to follow seems to be László Bruszt and Gerald A. McDermott and Vanesa Sanchez
http://www.worldcat.org/title/international-integration-regimes-as-development-programs-a-comparison-of-eu-and-nafta-accession-processes/oclc/123463402
Their argumentation from 2007 went to the far greater depth of EU integration. This to them seemed to suggest optimistic conclusions about the EU process:  "Trade agreements are paper thin," McDermott adds. "While free trade has important positive and negative impacts, it only gets you so far. To achieve sustainable gains for all parties involved, liberalized trade in goods, services and capital must be underpinned by greater institutional, political and social integration. Trade opens economies, but if you don't do the other work, you don't see the benefits of trade over time." For example, institutional integration includes common regulatory systems for markets like food, labor, capital markets, etc.; social integration includes labor flows and migration as well as greater development of education and cultural exchanges; and political integration includes the creation of supra-national entities that create laws and regulate various domains, but are governed by representatives from all member countries. Another important difference in the two integration schemes is the ability for developing nations, referred to in the paper as "little brothers," to learn from their "big brothers" who have highly developed economies. According to the paper, "The relative success of post-communist countries is the way the EU and its 'big brothers' have experimented with a variety of conditionality and compliance mechanisms to improve the institution building process of their 'little brothers.'" By "conditionality and compliance mechanisms," the authors mean the monitoring and technical assistance systems that the EU uses to ensure that aspiring members meet the criteria for membership, use the financial aid properly, and develop superior institutions and infrastructure. In contrast, Mexico appears as a laggard because of the lack of institutionalization of learning and monitoring within the NAFTA framework. "Nafta was just about free trade," says Bruszt. "When new members join the EU, they become members of the political machinery." "The over-emphasis by the United States on economics and market expansion has greatly hamstrung its ability to shape geopolitics," McDermott adds. "For all practical purposes, NAFTA and the institutional development of Mexico are frozen. Further economic integration requires much deeper institutional integration, harmonization and upgrading, and these are fundamental political questions. Do the Mexicans, for instance, want greater U.S. and Canadian intervention into their lives in return for economic and technical assistance? Would the U.S. be willing to finance a large part of infrastructure and institutional development in Mexico and gradually share power with the Mexicans and Canadians over the governance of these programs?"
Clearly, the judgement about US-Mexican relations stands. It is, seen with European eyes, an astonishing missed opportunity, comparable perhaps to Europe's North African impasse. But what about Europe's own integration process. How optimistic should one be now, post-crisis about deepening integration?