Passing climate legislation in the US is an attritional business. Clinton tried and failed. Obama tried and failed. Until the last week of July it seemed that Biden was doomed to fail too.
The House had signaled its clear support for big legislation last year, including a raft of climate measures in a $1.75 trillion bill. But in the finely balanced situation with the Republicans in dogged opposition it was the Senate that counted and, there, the West Virginia Senator and coal baron Joe Manchin stepped up to play the part of villain.
In an eight month ordeal he forced the scrapping of clean air standards. He also shot down plans for bigger tax credits for consumers who bought union-made electric vehicles, a measure that was opposed by Toyota Motor, which operates a nonunion plant in West Virginia. In December he announced he simply could not vote for a bill of major spending. When he returned to the table, he sliced away at the fee imposed on oil and gas operators for leaks of methane. He rejected an early plan by Democrats to permanently ban oil drilling in the Atlantic and the Pacific. With the Ukraine war raging and energy prices surging, Manchin became ever more adamant in his backing for fossil fuels. Then, finally, within a few feet of the finish line, in mid-July Manchin slammed the door.
On July 13th the US inflation print hit 9.1 percent. The following day Manchin declared that he could not support what was left of the Build Back Better Bill. Amongst wailing, tearing of hair and gnashing of teeth, the Biden administration's climate policy was declared dead. Several of us wrote obituaries and a mini-debate began about how to understand the failure of the Biden administration.
Then Manchin pivoted once more. On 18 July behind closed doors, secret negotiations resumed between Manchin and Schumer, which on Wednesday 27th produced a remarkable new compromise. Build Back Better was dead. But much of its climate-substance now returned in the form of the Inflation Reduction Act. The announcement came on the day that the Senate also voted through CHIPS act. Whereas ten days earlier the Biden administration had appeared dead in the water, it now seemed possible that the Democrats would pass two major pieces of legislation ahead of the summer recess and the midterms.
The Manchin-Schumer compromise in the draft Inflation Reduction Act includes:
$260 billion in clean-energy tax credits; $80 billion in new rebates for electric vehicles, green energy at home and more; $1.5 billion in rewards for cutting methane emissions; $27 billion 'green bank' for a federal green bank to complement the 23 that already exist across the US; support for coal miners with black lung
All told, Democrats estimate the bill will bring in $739 billion in revenue and will invest $433 billion in spending. The result will be to reduce the deficit by in the order of $300 billion. The large-scale pledges on climate spending are flanked by provisions that will force through $288 billion in savings on Medicare expenditure, at the expense of the pharmaceutical industry, a three year $64 billion subsidy to support Obamacare and a $2000 cap on out of pocket costs for seniors on Medicare.
If it passes, the IRA will be the largest piece of climate legislation that Congress has ever approved. As has been true throughout the arduous process of legislative drafting, the impact of the Inflation Reduction Act on emissions was immediately modeled by climate think tanks. In this respect 2021-2022 marks a new era in US economic policy. The Rhodium's group conclusions are broadly sanguine:
The array of clean energy tax credits has the greatest impact on emissions. Long-term, full value, flexible clean energy tax credits for new clean generation and retention of existing clean generators are roughly in line with the scenarios we examined in prior research. Long-term tax credits for carbon capture, direct air capture, clean hydrogen and clean fuels provide a launch pad for these key technologies to scale and build on the investments of the IIJA hub and demonstration programs. Federal investments have the potential to generate multi-megaton scale natural carbon removal in soils and forests. Long-term electric vehicle (EV) tax credits will accelerate the diversification of passenger vehicles away from their over-reliance on petroleum, though the EV credits included in this bill are scaled back from previous proposals. Manufacturing tax credits and investments will help diversify supply chains, expand domestic capacity to produce the clean technologies the world needs to achieve deep decarbonization, and can help enable the record levels of wind and solar deployment we project in our modeling. Our preliminary assessment of the IRA is that its policies, including the new leasing provisions, reduce net GHG emissions by 31% to 44% below 2005 levels in 2030 (Figure 1). … If Congress passes this package, additional action from executive agencies and subnational actors can put the US's target of cutting emissions in half by 2030 within reach. … Put simply, the IRA has the potential to be the biggest climate action ever taken by Congress.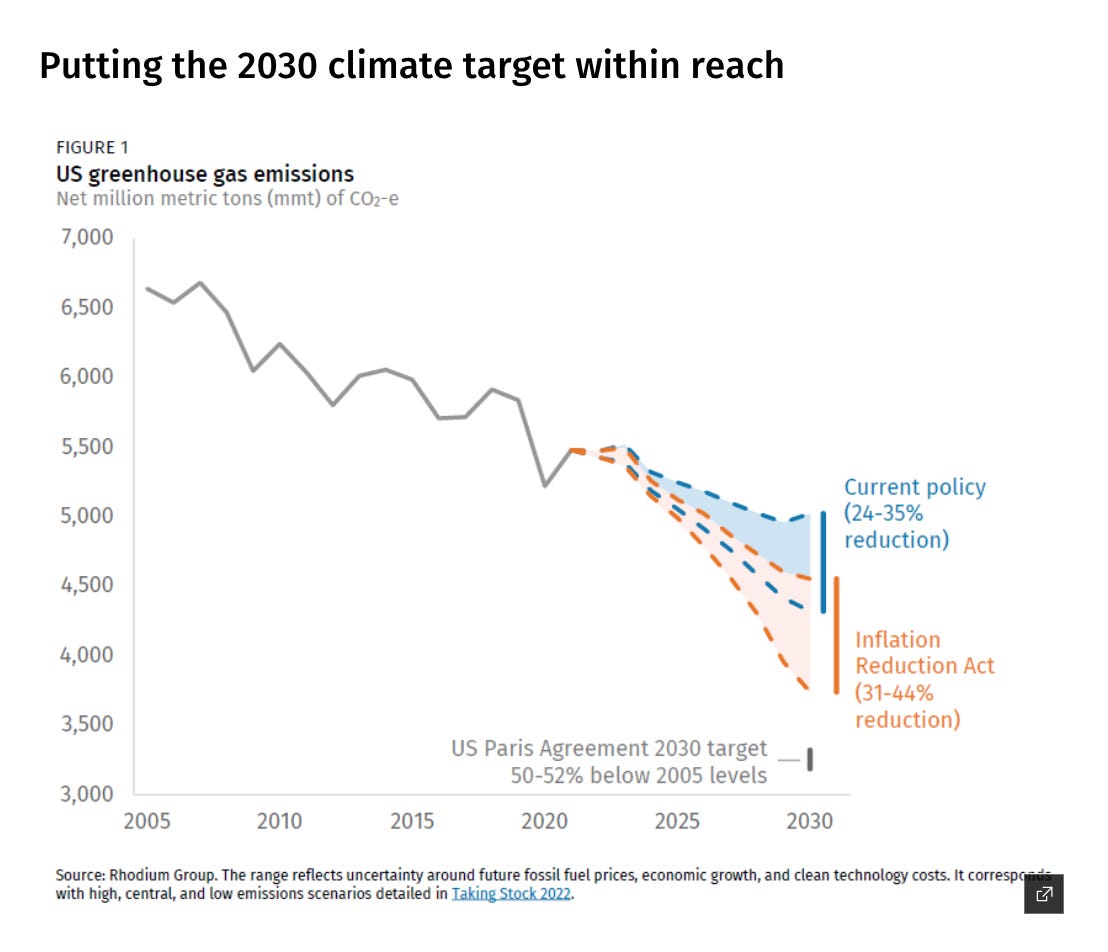 ****
Quite suddenly, as one House member put, the Democrats are "at the precipice" of actually getting something done.
How did this happen? How did a Presidency that seemed stalled, suddenly recover momentum. Why did commentators, myself included get it wrong? It isn't fun to revisit bad calls, but honesty demands some kind of reckoning with this disorientating experience. How do we make sense of this switchback?
First thing to say, is that Manchin's surprises really do seem to be surprises even for those very close to the process. The heartbreak and shock that Manchin engendered twice over, in December 2021 and July 2022, is genuine. Each time his change of heart seems to be last-minute and counter to expectations.
So labyrinthine was the process of negotiations between Manchin and Schumer that some are convinced that it is part of a 5-dimensional chess game that the Democrats have been playing to outwit McConnell and the GOP.
That would be reassuring. It would imply tactical control. If true it would also imply something weird about the US political system: given the GOP roadblock, the best way for the Democrats to pass any legislation is to appear as though they have checkmated themselves, allowing them to attract GOP support for bipartisan bills, before unleashing a partisan ambush to pass the all important reconciliation legislation. The outcome may be pleasing. But this is a crazy way to conduct public affairs.
Pleasing though this theory may be, it also does not chime with the understanding of those closest to the process. Rather than a successful manipulative tactical game, something closer to the reverse seems to have transpired. After Manchin's veto on July 14th it really did seem as though Biden's legislative agenda was dead. The realization of that shock, the sense of despair widely shared across the Democratic camp, echoed and amplified by the commentariat, triggered a rally. Biden's Presidency was in peril. It was time to act.
In the tense negotiations between 13th and 14th of July tempers had frayed. As Manchin tells it, he and Schumer reconnected the following week:
"By Monday we ran into each other again. I (Manchin) said, 'Are you still upset?' He (Schumer) said, 'I'm very discouraged.' I said, 'Well, you shouldn't be. Something positive could be done if we all want to work rationally,'" Manchin said, recounting the key moment. He said their staffs started working together in earnest the next day, July 19. They finally hashed out a deal on Tuesday evening (26th), recognizing they had to announce the package on Wednesday if it had any chance of passing before the scheduled start of a lengthy summer recess on Aug. 6. … It just so happened the timing aligned perfectly with Schumer's plan to hold a vote on final passage of the chips and science bill at noontime Wednesday. Republicans who voted for tens of billions of dollars for the domestic semiconductor manufacturing industry and the National Science Foundation were outraged and felt betrayed. Sen. John Cornyn (R-Texas), a key player in getting the chips and science bill passed, said he received "assurance privately from some Democrats, including the staff of the Senate majority leader, that the tax and climate provisions were off the table," which Republicans said would be a precondition for moving the chips bill. Cornyn took to the Senate floor Thursday afternoon to rail against the secret climate and tax deal. "How can we negotiate in good faith, compromise where necessary, and get things done together after the majority leader and the senator from West Virginia pull a stunt like this?" he said with rising exasperation. "To look you in the eye and tell you one thing and to do another is absolutely unforgivable."
Source: The Hill
Interestingly, both Manchin and Schumer preferred to hold the White House at arms length. They did not wish to repeat the direct negotiations between Manchin and Biden in 2021 which ended in failure and public recriminations after months of fruitless talks.
"President Biden was not involved," Manchin told West Virginia MetroNews. "I was not going to bring the president in. I didn't think it was fair to bring him in. This thing could very well have not happened at all," he said, explaining he didn't want to involve the president in case talks fell apart again.
What we are witnessing is not a cunning plan but a desperate improvised effort to pull back from the brink. It is the fruit of an effort in crisis-management triggered by the dawning realization of disaster. How was this deal possible?
****
One simple theory is that Manchin remembered that he was a Democrat.
As Manchin described his relationship with Chuck Schumer of New York: "It's like two brothers from different mothers, I guess. He gets pissed off, I get pissed off, and we'll go back and forth. He basically put out statements, and the dogs came after me again." Clearly, Manchin did not want to be blamed for the failure of the Biden Presidency. He has ambitions. He wants to get things done.
Furthermore, at some point, he may have come to the realization that climate measures are actually good politics, even in West Virginia. It is commonly said that American voters do not support climate action, especially with stagflation looming. But that is a claim not strongly supported by evidence. In fact:
Climate action enjoys broad support. Indeed, some climate policies are supported by huge majorities, including Republican voters. A large majority (58 percent) believes the federal government is doing too little to address the problem. As U.C. Santa Barbara political scientist Matto Mildenberger has been pointing out on Twitter, the public favors climate action and rewards it. Furthermore, while Manchin's West Virginia constituents are more conservative than the national population, polling shows a clear majority of the state's voters support aggressive clean energy initiatives, and many coal miners supported Build Back Better due to its funding for treatment of black lung disease. So the more plausible explanation for Manchin originally blocking climate action wasn't because of voters but because he's a coal baron (coal mine owners opposed Build Back Better). His most recent move—supporting climate legislation and pitching it as an anti-inflation measure—is far closer to a majoritarian position.
Specific policies like a green bank enjoy large majorities even in conservative states.
In Manchin's homestate of West Virginia, 54 percent of likely voters supported the idea of a national green bank, the survey found, with 31 percent opposing. In Alaska, 68 percent supported the bank and 20 percent opposed. Among oil, gas, and coal workers and their families, support was even higher: 62 percent and 77 percent of them supported a green bank in West Virginia and Alaska, respectively.
And this points to a bigger and broader point. It turns out that though the US may since the 1990s have been the place where climate policy goes to die, the balance may finally be shifting. As Zack Colman, Josh Siegel and Kelsey Tamborrino reported in an important piece in Politico, Manchin's threat to sink Build Back Better unleashed a furious lobbying effort on behalf of green business opportunities.
When Joe Manchin balked at the clean energy incentives in Democrats' expansive spending bill two weeks ago, the corporate C-suites and union boardrooms jumped into action. With hundreds of billions of dollars of incentives for manufacturing, electric vehicles, nuclear power and carbon capturing technology hanging in the balance, executives from some of the nation's biggest companies and labor unions made their case to the Democratic West Virginia senator: The next generation of clean tech needed Washington's backing to take off. Clean energy manufacturing companies with plans to set up shop in Manchin's state helped orchestrate the 13-day effort to change his mind …. That push — which two of the people said included a call from Bill Gates, whose venture capital firm has backed a West Virginia-based battery start-up — was taking place alongside a campaign by other senators along with economist and inflation hawk Larry Summers to convince Manchin of the merits of the bill. On Capitol Hill, Democratic Sens. John Hickenlooper of Colorado, Chris Coons of Delaware and Tina Smith of Minnesota continued engaging with Manchin and his staff behind the scenes, …. Duke Energy and Constellation Energy making the case for the clean energy package in the days after Manchin appeared to walk away from the energy and climate measures. A senior executive with a clean power company said his firm communicated with Manchin, Schumer and Senate Finance Chair Ron Wyden (D-Ore.) in the past two weeks "softly reminding them" that "tens of billions of dollars in investment are at stake here." Ultimately, Summers, the former Treasury secretary under President Bill Clinton, made the case that the climate package would not stoke inflation as Manchin had feared. Economists from the Wharton School at the University of Pennsylvania and deficit reduction advocate Maya MacGuineas, president of the nonpartisan think tank Committee for a Responsible Federal Budget, also briefed Manchin during that period … Jason Walsh, executive director of the BlueGreen Alliance, a coalition of labor and environmental groups, said several West Virginia companies pushed Manchin to back the credits as well — even suggesting failure to pass the bill imperiled their plans to invest in new operations. A senior executive with a utility operating in Appalachia said that his company communicated with Manchin how aspects of the bill such as tax credits to build clean energy manufacturing plants at former coal sites and incentives for developing small nuclear reactors and hydrogen would help West Virginia's economy. "We know coal plants are ultimately going to close," the executive said. "What is going to replace them? What are the jobs? What are we transitioning to? … Nucor Corp., the largest U.S. steelmaker, which is building a new plant in West Virginia, also reached out to Manchin's staff — as did the Carbon Capture Coalition, a cross-sector group that includes labor unions, oil companies and manufacturers, according to a person familiar with the contacts. Form Energy, a battery storage startup backed by Gates' Breakthrough Energy Ventures and which has plans for a West Virginia manufacturing hub, walked Manchin's staff through its growth trajectories with and without the proposed suite of legislative incentives, a person directly familiar with the interaction said. … And labor unions also pressed Manchin. The United Mine Workers of America engaged throughout the 13-day period with Manchin's staff … Brandon Dennison, the CEO of the economic development organization Coalfield Development, pointed to companies like Solar Holler, a West Virginia-based solar installer whose employees are members of the International Brotherhood of Electrical Workers labor union. Dennison said that when he talked to Manchin's staff in the past two weeks, he made it clear that passing clean energy incentives was about giving West Virginia "a chance to stay an energy state. "If we want to benefit from the investments and the jobs that are going to come with that transition, we need to be part of the proactive solutions and policies rather than constantly playing on defense," Dennison said. "That's the case I tried to make."
What this suggests is that in the future we may look back on Manchin's pivot in July 2022 as the moment at which the green capitalist coalition in the US had finally gathered sufficient strength to overcome at least the most dogged defense of the energy status quo. As one commentator remarked: "This is a historic climate bill, but it's also one of — if not the — most significant industrial policy bills of this era".
Again, West Virginia stands to benefit, as the NYT reports.
West Virginia remains the nation's second-largest producer of coal, but its mining industry has declined sharply over the past decade as electric utilities have closed hundreds of coal plants nationwide because of competition from inexpensive natural gas and renewable power. Industry leaders said they expected more coal plant closures with the passage of the bill. "Our preliminary estimates indicate that West Virginia would be one of the states with the largest number of coal retirements due to the wind and solar tax credits," Michelle Bloodworth, chief executive of America's Power, an industry trade group, said in a statement. But these days, there are more former coal miners in West Virginia than current coal miners, and the bill will undoubtedly help them, said Phil Smith, the top lobbyist for the United Mine Workers of America. He praised the permanent funding for the Black Lung Disability Trust Fund as well as the tax credits for carbon capture, a technology that Mr. Manchin has called "critical" but that has so far struggled to gain traction because of high costs. "If we're going to have coal industry 15, 20, 30 years from now, it is because we have developed carbon capture and deployed it, that's just the truth," Mr. Smith said. "Folks out in the coal fields understand that. And the coal companies understand that." Mr. Smith said the bill's $4 billion in tax incentives for renewable energy manufacturers to build their factories in former coal fields would directly help the approximately 45,000 miners nationwide who have lost their jobs in the past decade. … another $5 billion in the package that would allow existing coal-fired power plants to improve their efficiency and adopt environmental controls like scrubbers, which remove pollutants from smokestacks. Those measures to help the coal industry, she noted, come on top of $8.5 billion for carbon capture and storage that Mr. Manchin secured as part of a bipartisan infrastructure bill last year.
But if the Manchin-Schumer bill marks an important shift in America's political economy, Machin's interventions have also given that shift a profoundly conservative shape. Most obviously, the Inflation Reduction Act is a fraction of the size originally envisioned for Biden's legislative initiatives. The Democrats, who once aspired to pass a mammoth $3.5 trillion bill are now cheering a $433 billion package.
The Manchin-Schumer bill is not only shrunken in size. It is conservative in its political framing and larded with concessions to fossil fuel interests. Whereas energy transition was once paired with social radicalism, it is now linked to Manchin's agenda of energy security, inflation control and deficit reduction.
To claim that the Manchin-Schumer compromise will actually reduce inflation is an overstatement, but according to the influential analysis of the Wharton School it is broadly inflation-neutral.
The analysis, produced by the Penn Wharton Budget Model, finds that the Inflation Reduction Act "would very slightly increase inflation until 2024 and decrease inflation thereafter." The increase could be as high as 0.05 percentage points in 2024, and could be followed by an estimated 0.25 percentage point fall in the Personal Consumption Expenditures price index by the late 2020s. "These point estimates are statistically indistinguishable from zero, thereby indicating low confidence that the legislation will have any impact on inflation," write the study's authors.
The net effect of the bill, according to the Wharton study, will be to reduce the deficit by $248 billion over the budget window.
Included in the bill is a 15 percent corporate minimum tax, which Schumer and Manchin argued will collect $739 billion in government revenue over ten years. Overall, "a decrease in spending on prescription drugs combined with increases in revenues from personal income taxes and business taxes lead to a decrease in government debt will lead to a decline in government debt by 8.4 percent by 2050," the model says.
Meanwhile, the big news from the fossil fuel industries is that they don't hate the Manchin-Schumer compromise either.
the legislation contains what some called "Easter eggs" that would benefit oil and gas companies, including access to new swaths of federal waters in Alaska and the Gulf of Mexico. … Those leasing provisions alone would offer a win for oil and gas companies that are feuding with the Biden administration over Interior's slow pace of fossil fuel lease sales, one lobbyist for the industry said. Meanwhile, the bill's proposal to charge a fee of up to $1,500 a ton for the petroleum industry's emissions of methane, a potent greenhouse gas, would be less of an issue for large oil companies already working on reducing them, industry analysts said.
As one lobbyist remarked:
"The Easter eggs that Manchin forced into the bill on leasing, they're a big deal. If you squint hard enough, you can see this being a bipartisan compromise." The bill would also make it easier for businesses to use a tax credit for deploying technology that captures and stores planet-warming carbon emissions, which has become big business for companies like Exxon Mobil and Chevron. … "If enacted … this package would provide the most transformative and far-reaching policy support in the world for the economy-wide deployment of carbon management technologies," Madelyn Morrison, spokesperson for the advocacy group Carbon Capture Coalition, said in a prepared statement. … Oil company BP said the deal offers a lot to like for oil companies that are extending their reach into renewables, carbon capture and other forms of alternative energy. … "We applaud Senate lawmakers for making progress toward a historic climate deal," BP spokesperson Josh Hicks said in an email. "BP has actively advocated for Congress to pass strong climate legislation, including the full suite of clean-energy and low-carbon tax credits the U.S. House passed in 2021. We will continue engaging constructively with policymakers to advance these measures as we aim to become a net zero company by 2050 or sooner."
Unsurprisingly, the American Petroleum Institute, the trade group representing the largest oil producers in the country, was more restrained in its initial take. But even EXXON's CEO commented that the legislation as a step in the right direction.
Environmental groups meanwhile are furious at the compromises forced by Manchin.
Under the terms of the deal, the Department of Interior would be required
over the next decade to offer oil and gas drilling leases on at least 2 million acres of public land as well as 60 million acres offshore in any year the department seeks approval of new renewables projects on federal land or waters. That would hold renewables "hostage" to expanded fossil fuel extraction, said Brett Hartl, CBD's government affairs director. CBD's Hartl called the IRA a "devil's bargain that ignores science and locks us into at least a decade of new oil and gas extraction." In a CBD, press statement, he said, "This is a climate suicide pact. It's self-defeating to handcuff renewable energy development to massive new oil and gas extraction. The new leasing required in this bill will fan the flames of the climate disasters torching our country, and it's a slap in the face to the communities fighting to protect themselves from filthy fossil fuels."
Erich Pica, president of Friends of the Earth, commented
"The Inflation Reduction Act may be the most Washington can offer right now, but it's a far cry from what's actually needed to address the climate crisis. The investments in renewables, energy efficiency and Superfund clean-ups will make a difference, but communities and the climate continue to be sacrificed to Sen. Manchin's fossil fuel demands."
All told the terms of the deal will make it impossible for Biden to uphold his campaign promise to end new federal oil and gas leasing.
Overall, the Inflation Reduction Act is a true compromise. On substance, the balance of evidence generated by emissions models strongly suggests that the advantage lies with the energy transition. as Manish Bapna, president of the Natural Resources Defense Council, told the New York Times, "his group's internal modeling showed that the emissions cuts from the legislation would be as much as 10 times greater than the effects from the support it extends to fossil fuels. He called the fossil fuel provisions "pain points" but said overall the deal was "significantly positive."
But the balance of political arguments is rather different. If the basic aim of the early Biden administration was to reconfigure American politics with a bold legislative agenda under an overtly progressive brand, then that project has come to grief and the last minute Manchin-Schumer compromise does not change that. The combination of GOP opposition, spoiling by Manchin and Sinema, and the surge in inflation, have fundamentally changed the terms of the discussion and the legislative possibilities. What has emerged in the CHIPS act and the IRA are two pieces of industrial policy legislation that may significantly alter America's political economy. But they do so under the sign of global geopolitical competition, energy security and fiscal restraint. This is not incompatible with Biden's message in the spring of 2021, but it recasts that message in distinctly conservative terms.
And, at the time of writing, it still remains unclear whether Manchin-Schumer compromise will fly. Given the last minute nature of the compromise and the Congressional recess on August 6th, the timeline is incredibly tight. The draft bill faces a grueling passage through the Senate.
Manchin's pivot has unleashed not just the constructive forces of green modernization, but also the lobbyist interests that hitherto have sheltered behind Manchin's stonewall. As one person close to the process commented to me, the fight will be fought this week.
In a notice reviewed by The New York Times, Democratic floor staff offered some advance advice for senators and their aides as they looked toward the marathon voting session. "Please be patient, stay hydrated, wear comfortable shoes, bring snacks for your hideaway, a blanket for your lap as it usually gets cold in the chamber at night and anything else to make you comfortable as we hunker down and get to work," it said.
Apart from snacks and hydration, it is political economy that is to the fore. The Democrats still need every vote in the Senate and, as of the time of writing, Kyrsten Sinema of Arizone has been ominously silent on the compromise deal.
She was not party to the conversation between Manchin and Schumer – the "brothers from different mothers". And there is nothing that Sinema likes to do more than to break liberal hearts over issues like the privileges given to taxation on carried interest.
Talking points that are circulating emphasize private equity's influence in Arizona's economy and how taxing the industry could chill job creation. A number being circulated, originating from research by lobby group American Investment Council, is that private equity-backed businesses have employed some 229,000 people in Arizona.

Sinema isn't expected to oppose all tax changes. But in the past she's indicated that she doesn't support eliminating the carried interest break. That tax perk allows private equity and hedge fund managers to pay lower capital gains tax rates, which top out at 23.8%, rather than the 37% income tax rate on a portion of their earnings. The senator hasn't publicly explained the reasoning for her stance on carried interest.

… Sinema is the main reason the smaller Inflation Reduction Act proposal now on the table doesn't reverse the Trump-era corporate and individual rate cuts. But it does impose a minimum tax on corporations and eliminates the carried interest break, which has led to heavy pressure from Republicans and industry.
That may be too much for her to stomach. There may also be a rebellion of right-wing low-tax Democrats in the House, if they do not get their way.
Eliminating carried interest is a relatively small change dollar-wise in the context of the $739 billion in tax provisions in the bill. It would only raise about $14 billion additional tax dollars over the course of the decade. If Sinema were to object to repealing carried interest, it could be stripped from the bill without large consequences on other spending priorities, but it could be politically difficult for other Democrats to hand a win to hedge funds and private equity firms.
The result of the Congressional battle this week remain to be seen. Whatever transpires – surprise victory or oft-predicted defeat – the basic and most general point is that this entire process is unbelievably contingent. The balance of forces in US political economy as refracted through the structures of American politics are, in the current moment, finely balance. The Democratic coalition, though it can draw on support of progressive elements of American business, is internally riven. What is clear is that the progressive impetus of 2021 has been decisively broken. The CHIPS and IRA Acts may be effective, but they are not pieces of legislation that will transform American society. They work with the grain of its political economy. And given the dismal poll numbers that still dog the Democrats, they may have come too late, and be too overshadowed by the issue of inflation, to secure what the Democrats and American democracy most urgently need – something less than total disaster in the mid-terms. The progressive side of the Biden team has been worn down, whether the political obituaries for the Biden administration as a whole were written prematurely still remains to be seen.
*****
I love putting out Chartbook and I am particularly pleased that it goes out free to thousands of readers all over the world. But it takes a lot of work and what sustains the effort is the support of paying subscribers. If you appreciate the newsletter and can afford a subscription, please hit the button and pick one of the three options.